—
Season 4: Spring Production Announced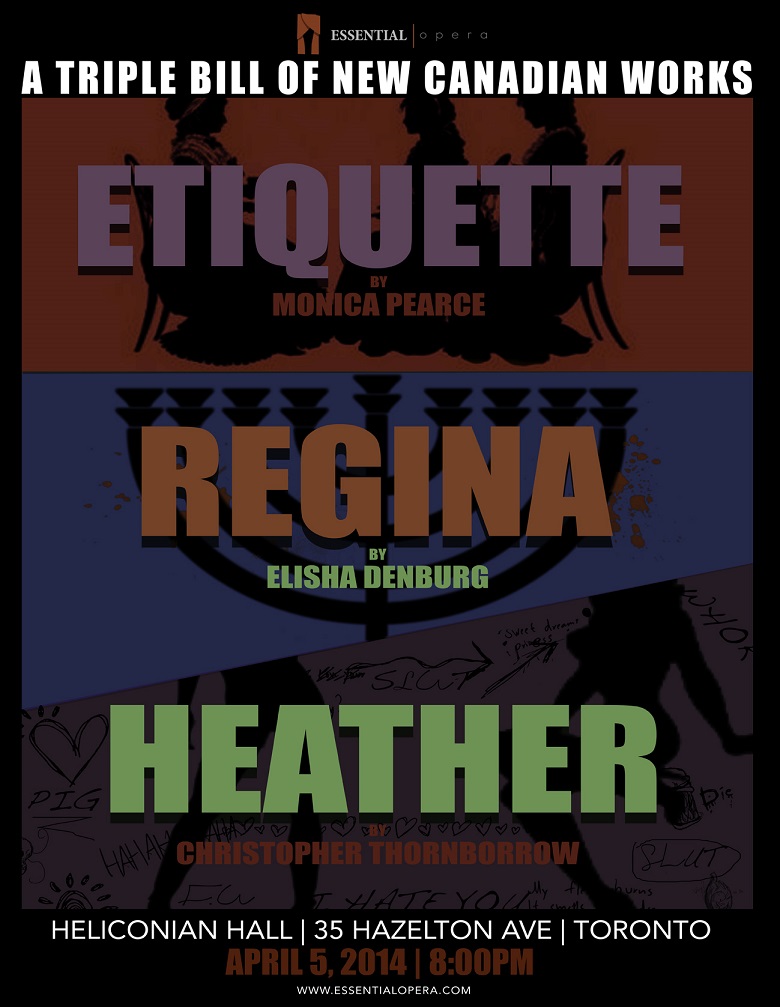 Info about our premieres of new Canadian operas:
The Operas – The Cast and Musical Team
—
Info about our Season 4 opening production:
The Deserted Island
Haydn's L'isola disabitata
Friday, November 8, 7:30 pm; Heliconian Hall, 35 Hazelton Ave., Toronto
—
Info about our Season 3 productions:
Two Weddings and a Funeral
Gianni Schicchi (Puccini) and Il campanello (Donizetti)
Friday, March 15th, 2013, 7:30 p.m.
Heliconian Hall, 35 Hazelton Ave., Toronto
$20
Tickets available online or at the door. Buy Tickets Now
Info about our S3 fall production:
The Threepenny Opera
Kurt Weill
Wednesday, November 7, 2012, 7:30 p.m.
Heliconian Hall, 35 Hazelton Ave., Toronto
Tickets: $20
Sung in German and English, with English translation (if you've been good)
Info about our Season 2 productions:
Alcina
G.F. Handel (with orchestra)

Toronto: Trinity St. Paul's, 427 Bloor St. W, May 25, 2012, 7:30 PM
Tickets available at the door: $20
New Hamburg Live! Festival of the Arts: Thursday, May 31, 2012, 7:30 PM
What happens when a pair of sister sorceresses fall in love with the wrong men? Handel tells the story of Alcina, a sorceress who gives up her powers for the love of a handsome knight, and her sister Morgana, who has to choose between a faithful lover and a mysterious stranger. Dramatic and heartbreaking in true opera seria style, with quests, betrayals, and love conquering all.
Details, meet the cast & orchestra


Chérubin
J. Massenet
7:30 p.m., Saturday, November 12th, 2011
Heliconian Hall, 35 Hazelton Avenue, Toronto, ON
Continuing the hilarious (and sexy!) exploits of the exuberant page Chérubin, last seen making trouble in The Marriage of Figaro. Now he's off to enjoy the privileges of his officer's commission in the army, but not before sampling all the pleasures Spain has to offer. Written in the sumptuous, frivolous style of Paris' Opera-Comique, Massenet's light-hearted romance follows Chérubin while he trades the temptation of the beautiful Countess Almaviva for the passion of an exotic dancer (yes, that kind of does mean what you're thinking), and finally falls for the girl next door… but has she really fallen for him?
Info about our inaugural production:
W. A. Mozart
7:30 PM, Saturday, February 26, 2011
Calvin Presbyterian Church, 26 Delisle Avenue, Toronto, ON