—
Collaboration: Gianni Schicci
Essential Opera and Orchestra Toronto are coming together this spring to bring you our production of Puccini's classic comedy, Gianni Schicchi. Join us on Sunday, April 22 at 3pm for this hilarious and touching performance in the George Weston Recital Hall at the Toronto Centre for the Arts. Visit the Orchestra Toronto site for tickets and more!
Meet our partners: "Orchestra Toronto is an orchestra created by passionate musicians within the community, for the community. We offer the enjoyment of music, foster education and music appreciation and support emerging Canadian talent. Our organization of volunteers is committed to making symphonic music accessible to a broad and diverse public beyond the concert hall."

—
Auditions
Thank you to all the singers who submitted during our video upload audition period!
—
Indie Opera TO News
Indie Opera TO launched its website in August 2016, bringing together 11 independent companies producing opera in the Toronto area. Check out our page: http://indieoperatoronto.ca/company/essential-opera/
Scroll on downfor our video and to sign up for our (infrequent!) newsletter.
This is all thanks to the hard work of the Indie Opera group and executive, and to an OPERA America grant for audience development. The Indie Opera TO website is a one-stop shop for your Toronto opera needs! The main site has more info on how the collective operates and all the companies involved.
Here's our intro video – we had a blast filming it with filmmaker Darren Bryat during rehearsals for She's the One and in Dahlia Katz's studio.

—
Opera Peep Show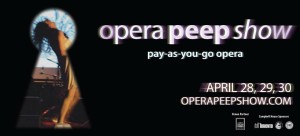 Essential Opera joins several other indie opera companies for an unusual pay-as-you-go opera experience at Campbell House Museum (160 Queen St. West, Toronto). April 28, 29 and 30. Details here.
Opera Peep Show explores feelings of intimacy, voyeurism and lets the audience take control over their own experience. With four Toronto indie opera companies to sample, a bar and party room, Opera Peep Show will be a fun and unique night out. Facebook event here.
Join us on April 28 and 29 for an EO Reunion with a collection of opera faves, featuring EO cast members from the past six seasons. We have a glittering array of singers and repertoire for you to choose from, with pianist Jennifer Tung. On April 30 we're presenting a quick collage of contemporary opera, celebrating and exploring women's lives through Canadian and American contemporary opera, with pianist Cheryl Duvall. Looking forward to seeing you there!
Tickets! http://operapeepshow.brownpapertickets.com/
—
She's The One

Learn more about our upcoming performance on April 8 in Toronto! Including cast, ticket link, repertoire and more.
—
Save the Date
Save the date for our upcoming performance in Toronto on April 8, 2016 in Heliconian Hall at 7:30 pm. "She's the One" is a collage of contemporary Canadian and American operatic works and excerpts that trace a path through the lives of women. Over the next few weeks we'll be updating you on the cast and programme details. Stay tuned!
—
Opera Lyra Ottawa announcement
We were devastated to learn that Opera Lyra Ottawa ceased operations on Wednesday, October 14. We are so sad and disappointed not to get to share our double-bill of short, Canadian operatic works in concert with Ottawa audiences. We are also brokenhearted for staff and other colleagues who have lost jobs and opportunities. Our thoughts are with everyone there, and with Ottawa's arts community.
Opera Lyra press release
—
Video Interview
We were interviewed for Schmopera: http://www.schmopera.com/check-out-essential-opera/ If you're new to Essential Opera or want to know more about why & how we do what we do, take a look at this short clip!
—
Fall 2015 begins on the road
Essential Opera is starting off the 2015-2016 season in Halifax at the Gilsig Series in Jewish Arts & Culture, where we are presenting Regina on October 8, 2015.
More info
Immediately following our Halifax performance, Essential Opera joins Opera Lyra Ottawa to present Regina and Etiquette on October 16, 17,  and 18! Read the Opera Lyra 2015-2016 season brochure
More info
We are thrilled to be presenting these contemporary works for a growing audience across Canada, and hope to see you there!
—
Announcing our season 5 winter show:
Essential Zarzuela!
—
Thank you to all the singers who auditioned for us in January 2015!
—
Essential Opera is Growing
Read more about our expansion on our Blog page!
—
Proudly announcing our
Season 5 opening performance
Gluck: Paride ed Elena
(Paris and Helen)
Toronto: Saturday, September 27, 8:00 pm; Trinity St. Paul's Centre
Kitchener: Wednesday, October 1, 7:30 pm; Registry Theatre
—
Summer 2014 Festival Appearances:
New Hamburg Live! Festival of the Arts
Two Weddings & A Reunion
Saturday, June 7, 2:00 p.m.
Steinmann Mennonite Church, Baden, ON
More info and tickets: www.newhamburglive.ca
Essential Opera presents "Two Weddings & A Reunion", a newly-formed double bill of Haydn's "The Deserted Island" (L'isola disabitata) and Donizetti's "The Night Bell" (Il campanello) – two charming comedies. In Italian with English text onscreen.
Open Ears Festival of Music and Sound
Etiquette / Regina / Heather (CINDY + MINDY = BFFs 4EVER)
Sunday, June 15, 7:30 p.m.
The Registry Theatre, Kitchener, ON
More info and tickets: www.openears.ca
Essential Opera presents its triple bill of new Canadian works with a brilliant cast and chamber ensemble.
—
Info about our Season 4 spring performance:
Etiquette / Regina / Heather
Threw new works by Canadian Composers
New Works – Info, Cast and Musical Team
—
Info about our Season 4 opening production:
The Deserted Island
Haydn's L'isola disabitata
Friday, November 8, 7:30 pm; Heliconian Hall, 35 Hazelton Ave., Toronto
—
Info about our Season 3 productions:
Two Weddings and a Funeral
Gianni Schicchi (Puccini) and Il campanello (Donizetti)
Friday, March 15th, 2013, 7:30 p.m.
Heliconian Hall, 35 Hazelton Ave., Toronto
$20
Tickets available online or at the door. Buy Tickets Now
Info about our S3 fall production:
The Threepenny Opera
Kurt Weill
Wednesday, November 7, 2012, 7:30 p.m.
Heliconian Hall, 35 Hazelton Ave., Toronto
Tickets: $20
Sung in German and English, with English translation (if you've been good)
Info about our Season 2 productions:
Alcina
G.F. Handel (with orchestra)

Toronto: Trinity St. Paul's, 427 Bloor St. W, May 25, 2012, 7:30 PM
Tickets available at the door: $20
New Hamburg Live! Festival of the Arts: Thursday, May 31, 2012, 7:30 PM
What happens when a pair of sister sorceresses fall in love with the wrong men? Handel tells the story of Alcina, a sorceress who gives up her powers for the love of a handsome knight, and her sister Morgana, who has to choose between a faithful lover and a mysterious stranger. Dramatic and heartbreaking in true opera seria style, with quests, betrayals, and love conquering all.
Details, meet the cast & orchestra

Chérubin
J. Massenet
7:30 p.m., Saturday, November 12th, 2011
Heliconian Hall, 35 Hazelton Avenue, Toronto, ON
Continuing the hilarious (and sexy!) exploits of the exuberant page Chérubin, last seen making trouble in The Marriage of Figaro. Now he's off to enjoy the privileges of his officer's commission in the army, but not before sampling all the pleasures Spain has to offer. Written in the sumptuous, frivolous style of Paris' Opera-Comique, Massenet's light-hearted romance follows Chérubin while he trades the temptation of the beautiful Countess Almaviva for the passion of an exotic dancer (yes, that kind of does mean what you're thinking), and finally falls for the girl next door… but has she really fallen for him?
Info about our inaugural production:
W. A. Mozart
7:30 PM, Saturday, February 26, 2011
Calvin Presbyterian Church, 26 Delisle Avenue, Toronto, ON