Gluck: Paride ed Elena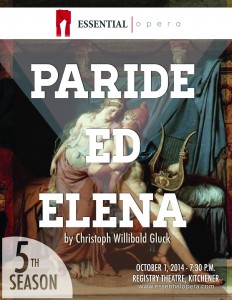 Essential Opera celebrates the start of its 5th season – and Christoph Willibald Gluck's 300th anniversary – with a passionate masterpiece, Paride ed Elena (Paris and Helen). An epic love story that has echoed through both art and history for millenia, Paride ed Elena combines human emotions with the whims and machinations of gods and goddesses.
Featuring a powerful cast of brilliant women singers, music director Vicki St. Pierre, and pianist Wesley Shen, Essential Opera's Paride ed Elena promises a night of beautiful, rarely-heard music.
Saturday, September 27, 2014, 8:00 p.m.
Trinity St. Paul's Centre, Toronto
Sung in Italian, with English translation
Wednesday, October 1, 2014, 7:30 p.m.
The Registry Theatre, Kitchener
Sung in Italian, with English translation
Pre-concert chats 20 minutes before curtain at both performances, with Dr. Sheila Ager of the University of Waterloo's Classic department.
Creative Team